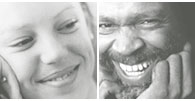 Atlantis Health Plan - Doctors make the difference
Atlantis Health Plan is one of the first managed care health plans in New York that's owned and operated by doctors and not an insurance company.
It means that medical decisions about your health care are made by doctors.  Atlantis private practice doctors and hospitals are among the finest and most well respected in New York City.  Your employees can receive coverage for routine doctor's visits, emergency care, prescription drugs, S-rays, hospitalizations – and more.
A Focus on Preventive Care and Personal Service
Here are just three examples of how Atlantis physicians make a difference
Prevention and Early Detection Program

As a doctor-owned plan, we believe that a thorough preventive care program can result in early detection and prevention of disease.  Atlantis goes beyond traditional preventive care programs by including annual physicals, lipid screening, diabetes screening, mammography, prostate and colon cancer screening with no hassle.  Do not wait until you have symptoms.  Be smart.  See your doctor.  Early detection and prevention SAVES LIVES.

Ideal Body Weight Program

Atlantis Health Plan is leading the way in partnership with Weight Watchers to get you started in achieving your ideal body weight.  Being over-weight has shown to be a leading cause of mortality and morbidity.

It is also a cofactor in diabetes, high blood pressure, arthritis, heart disease and cancer.  Through weight control, Atlantis Health Plan will be able to lower the risk of the development of such diseases.

24/7 MD Hotline

Atlantis Health Plan is pleased to introduce you to the only 24/7 MD Hotline in New York.  You will be able to speak to an experienced doctor, not an answering machine.  For you or your child, we have pediatricians and internists ready to respond to your call.  Have the peace of mind of talking to a real doctor.

12 Month Referral

If you are using the Health Plan or POS plan, rest assured that you do not have to go to your Primary Care Physician every time you need a referral. In Atlantis Health Plan, our referrals are valid for a 12 month period, avoiding unnecessary visits to your PCP.